On Tuesday I went to see the Thermals and the Lords of Altamont in Zurich. Zurich is Switzerland's largest city and cultural capital — and nothing screams culture like Iron Maiden and the Thermals playing shows on the same night! Luckily for me (and a whole lot of Maiden fans) it's just an hour away by train.
I actually saw them about a month ago at Fontana's for the Brooklyn Vegan CMJ show but they only played a half-hour set and the place was so packed I could barely get in the room. They kicked ass, though, so there was no way I could pass up a chance to see em again.
It took me a while to figure out which train to get on so I ended up getting to Zurich at about 8pm instead of 7:30 when doors opened at Mascotte.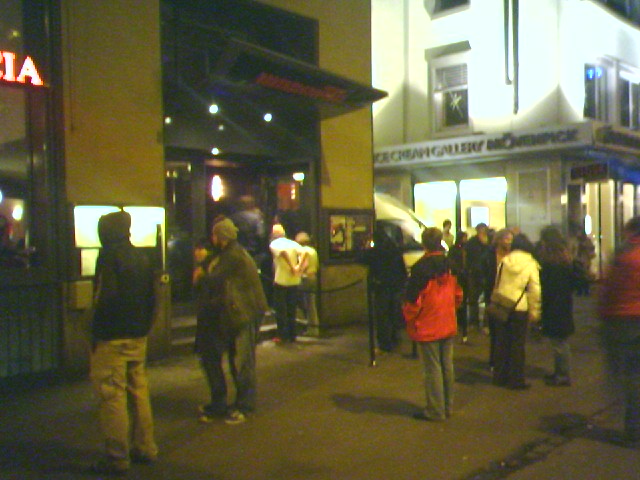 It only took about 5 minutes to get there by cab; apparently rush hour is long over by 8pm, just like in Basel. US$14 for such a quick ride is ridiculous, though, even if it is in the back of a comfortable E-class Mercedes.
The club was fairly small with room for maybe 100 to 200 people and not very crowded. I guess the show wasn't sold out like the Nouvelle Vogue show on Friday or Iron Maiden across town.
The Thermals came on at about 9 and thoroughly rocked the joint. It was hard to tell whether or not the majority of the crowd had actually heard them before, but it was easy to see that everyone was into it. It was a fantastic set and I only wish it could have been longer. They played for about an hour and were unfortunately denied an encore, which was really unfortunate because the next band, The Lords of Altamont paled in comparison, and they did get one. They played some of my favorites including No Culture Icons and St. Rosa and the Swallows and finished with Everything Thermals (video) which was the perfect ending to a fantastic show.
After the show, I took my time walking back to the train station, but didn't explore too much as there was only one last train back to Basel. Anyway it was almost midnight — the streets were deserted and everything was closed. Not much to do but head home.
I have a feeling I'll be back in Zurich before long. Maybe take in the sights this time.